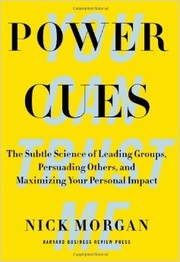 Power Cues: The Subtle Science of Leading Groups, Persuading Others, and Maximizing Your Personal ImpactNick Morgan; Harvard Business Review Press 2014WorldCat•LibraryThing•Google Books•BookFinder 
I have read a lot of body language books in my day. Being a scientist, I have been resistant to leaving things like body language up to chance. I hate the idea that there's a whole 'nother conversation going on and I'm not in on it. So I read body language books. But my hatred of oversimplification usually ends up negating anything I would have gained from these books, because apparently what sells body language books is "Do these three exact motions and you will get promoted." Why those things? Why do you assume I am looking for a promotion? Do I really want to be promoted by people who will be duped by me changing three things that have nothing to do with my job? Maybe I should reevaluate my whole life.
The point is, this book is different. Morgan takes you through the research, what the science says happens non-verbally among groups, and then discusses how you can take advantage of that research. Not only that, he doesn't mention "power postures" even once, and isn't interested in tricking people. As far as body language goes, it is an expression of emotion. Most of the books in this area focus on changing the body language without really investigating the emotion, and if they do, they imply that by changing the language you'll change the emotion. Morgan would rather you bring your body language into alignment with your emotion, and then people aren't getting conflicting messages from you which would lead to distrust.
The other really good thing about this book is that it actually had information I hadn't heard before. Part of the reason I read so fast is because I have read so much that all I really need to do is find the 10-20 sentences of new information in any book I read. This one had more than that. There's the obligatory chapter on your body language, one on reading other people's body language, then it dives deep into interesting territory: Which part of your vocal range and what kind of tonal quality inspires people to follow you, what makes a compelling story (again, which makes people follow you), and how to welcome and use the subconscious signals you receive from other people's body language.
Highly recommended.